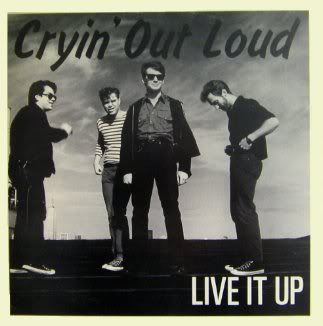 This is the only release by Cryin' Out Loud.
Don Brody later formed an acoustic folk type duo called
The Marys
. They made only one recording before he died in his sleep 2 days after Christmas in 1997.
You can read more about Don Brody
HERE
.
They had a video on MTV for "Live It Up" in 1986. Youtube won't allow it to be embedded, but it's
HERE
1 The Distance
2 Live It Up
3 Fire
4 Pounding Heart
DOWNLOAD
There is word that the band has other material that they may put out on cd at some point.