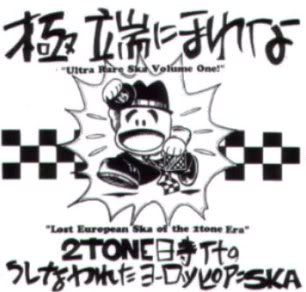 This is a great comp that features 20 ska rarities but is quite a rarity itself. I can find very little info about it anywhere. Word around the campfire is that there were only 500 copies of this cd made. Is that true? I don't know. You tell me.
I have posted a few of these songs on Tone and Wave previously but they sound much better on here than my vinyl rips do. The version of Skavengers' "Party Girls" sounds great compared to the one I posted though the whole 7" is still available in it's authentic vinyl-crackling glory
HERE
. This comp also has Graduate's
"Elvis Should Play Ska"
, The Employees'
"Pick It Up"
, and The Mangy Dogs'
"Itsy Bitsy"
...all of their full 7"s are still available for download - if you don't have them yet get them before they're gone.
1 Boss - Rude Boys are Back in Town
2 Skarab - Babe Don't You Know the Ska?
3 Lou and the Hollywood Bananas - Hong Kong Ska
4 Skavengers - Party Girls
5 Graduate - Elvis Should Play Ska
6 Cairo - Movie Stars
7 Tigers - Ska Trekkin'
8 Vodska - L'espion Qui Venait Du Ska
9 Inner City Unit - Amyl Nitrate
10 Akrylykz - Ska'd for Life
11 The Skaooters - Summer Ska
12 The Plugs - Indoor Shopping Centre
13 The Mexicano - Trial by Television
14 The Employees - Pick It Up
15 The Army - Trendy
16 Rimshots - I Was Wrong
17 Gangsters - Wooly Bully
18 The Mangy Dogs - Itsy Bitsy
19 Alberto Camerini - Ska Tentati
20 Jamaican Survivors - Mafia Theme
DOWNLOAD