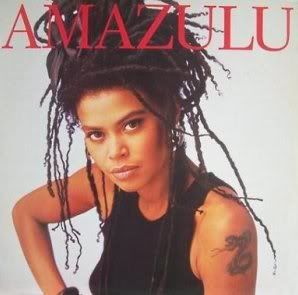 Amazulu was an all female (except for the drummer) dance/pop/reggae/ska band from London. They released a number of singles between 1983 and 1986 before releasing this one and only full-length. Though they were moderately successful at the time they seem to be a forgotten band. They even had a bit of success in the US with their cover of the Bobby Bloom hit Montego Bay (though the Allniters were well known for their cover 3 years earlier) and they performed on Top of the Pops and The Young Ones.
Here's their Wikipedia article
.
Here are a few members of the group pretending to perform "Too Good to be Forgotten" on Top of the Pops in 1986:
Their record label Mango was a branch of Island Records who has since dropped the Mango subsidiary. They also put out Aswad, Jimmy Cliff, and Burning Spear as well as other British Reggae and Hip Hop acts. Much of what was on the Mango label has never been re-released on cd.
I have included 2 songs that were not originally on the album.
1 Too Good to be Forgotten
2 Excitable (Soca Mix)
3 After Tonight
4 All Over the World
5 Things the Lonely Do
6 Montego Bay
7 Don't You Just Know It
8 Cairo
9 Moonlight Romance
10 Upright, Forward
*Mony Mony
*Wonderful World, Beautiful People
DOWNLOAD