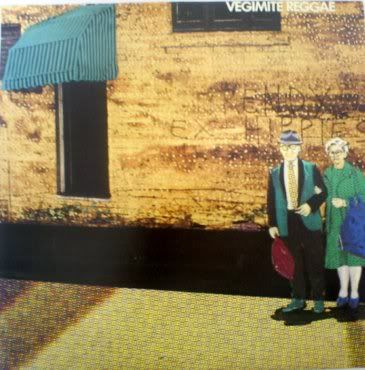 I think that those few of you who actually heard of Vegimite Reggae probably heard of them from their cover of Stairway to Heaven. It was not originally on this album but I have included it for those of you who don't have it yet.
Again, there is not much information on this band on the internet. From what I've found they only ever recorded this one album, a single "Send it Out / Faces" (both of which are on this record), and another 7" "Too Many Years / Love is Gone". (Which is for sale on
Music Stack
right now for under $6. I would buy it and share it with you, but I'm buying other more interesting things for us.)
If anybody knows anything about Vegimite Reggae (yes, VegImite, not VegEmite) - especially any other recordings they may have please don't be stingy with this info.
Trendy Ex-Hippies (1987)
1 Send it Out
2 Open the Door
3 Way Away
4 Rude Boy Rude Girl
5 For Love
6 Faces
7 Fat Girl
8 Illusions
9 I Need You
10 Latin Lover
* Stairway to Heaven
DOWNLOAD
[To be honest, I am not a big fan of this album. For being lumped into the ska / reggae category this album is quite lacking in either. There are a few really good songs on this record, but I think those songs would've been better off being released as singles without the need for this entire set. They certainly were a good band, but I'm not sure this recording represents them properly. Am I missing the point here?]